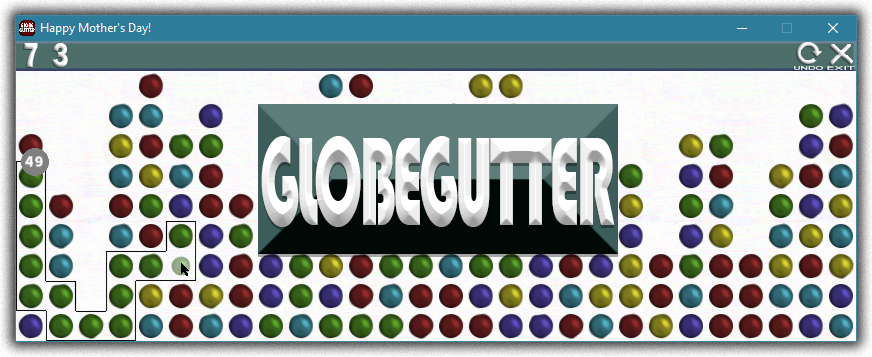 Globe Gutter
A downloadable game for Windows
Globe Gutter is a simple matching game I made my Mom for mother's day. She used to play "Bubble Breaker" on her Black Berry, so I tried my best to recreate it to play on her computer.
Objective:
All you have to do is select groups of globes that match in color by clicking on them, and then pop them for points by clicking on them a second time. The game ends when there are no more matches.
Features:
Turn Your Own Pictures Into Maps: You can turn a "png" or a "jpg" image into a Globe Gutter Map by enabling "Mother's Day Mode." Essentially the globes form the pixels of your image. Included in the zip file is short tutorial on how to turn any picture into an engaging Globe Gutter Map using Photoshop.
Customize the Gameplay: Certain elements of the game can be customized to your liking. Variables like the size of the board, the background, the amount of colors, whether you want to play endlessly, and if you want globes to shift right or just fall straight down, can be altered.
Records Statistics: Globe Gutter records stats like your high score, the most globes you popped at once, and the amount of globes you popped across all games. A separate file is created for each configuration of settings.
Play In Less Than 5 Seconds: Globe Gutter opens quickly, and starting a game takes only one click.
Free To Play: There's nothing to buy in the game. No cosmetics, no extra lives, no premium content. What you see is what you get.
This is the second version of the game, which fixes a few bugs and has the rest of the game's features.

Download & Install Instructions:
There is no program or game engine required to run Globe Gutter
To download, click the "download" button, choose "save file", and wait for it to download.
Then to install, simply right click the zip file, select "extract
all," choose a convenient place to extract the folder to, open the
extracted folder, and launch the game by double clicking on the
application named "Globe Gutters."

Download
Click download now to get access to the following files: